GRANICRETE OVERLAYS FOR "AUTHENTIC" STONE & WOOD FINISHES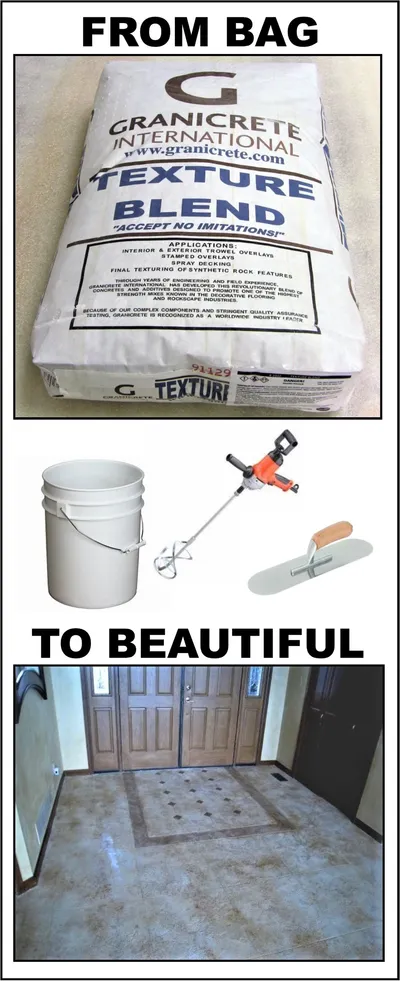 2 Options to Learn and Confidently Start Your Interior and Exterior Floor Overlay Projects...
Granicrete's floor overlay system offers you a wide variety of "authentic" finishes you can do for travertine, flagstone, slate, tile, and wood. Here are the ways you can get started with confidence:
Jump in and do it: Read our Training Guides and Spec Sheets, watch our videos, and then order your products to start your Granicrete project. We are happy to help with questions you have and products you want to select.
Practice first at your pace at your place: Order our Online Training practice kit. You will follow our training guide, watch the short and to the point training videos as you complete 4 samples from start to finish. You will also get the our confidence builder review by phone with one of our training instructors before ordering your needed Granicrete materials. Then we will help you order your products to start your project.
Practice Kits can be ordered online store or calling us directly at 866-438-9464.
Kit includes practice boards and Granicrete products to train with.
Special Offer:
When completing our Online Training you will get our proven Sales and Marketing training, "Healthy Profits Without the Headaches" for FREE!
FREQUENTLY ASKED QUESTIONS:
How durable is Granicrete overlay system?  
Our system is tested having greater comprehensive and flexural strength than concrete. Such characteristics can yield decades of low maintenance and durability. 
We do not degrade our product by adding plasticisers, cheap sands, and retarders. Our system is pure and fortified with our Super Concentrated Polymer which we do not pre-dilute with water. 
For exterior projects around pools and decks, Granicrete's overlay can be as much as 30 degrees cooler than concrete so you can enjoy your outdoor activities without burning bare feet. Granicrete has millions of square feet of overlay flooring across several continents that have been in use for nearly 15 years.
How thick is your overlay?  Granicrete can be 1/16" and typically troweled to finish less 3/16". The depth you see from photos and in person result from our special tapes that create the grout lines that make the system so authentic looking.
What tools do I use to create the stone and wood finishes?  First, we do not use stamps nor offer stamped concrete to imprint finishes. Such are a waste of money and negate custom finishes. Our concrete resurfacing method for all our finishes are from using a trowel and/or a brush. To mix our 50-lb bag all you need is a 5-gallon pail, a mixing paddle, and hand-drill. The same mix of Granicrete Texture Blend can do all stone and wood finishes at the same time. So, if your floor has a couple different finishes, you can do them at the same time.   
How much working time do I have with your overlay mix?  Granicrete has one of the longest working times in the industry which can be as much as an hour. Our product engineering is designed to give you ample time to create authentic finishes of various stone and wood.
How do achieve such coloring authentic coloring?  Well, we keep coloring simple. You dilute our concentrated colorants with water and spray them onto the Granicrete Texture surface. They are engineered to create the natural stone and wood coloration rather than painted decorative concrete finishes. Better yet, the colors work for you and you do not need to be artistic our jaw-dropping finishes. We have color recipes to get you started and you will immediately understand how our colorants are used. So our broad color selection become fun at your fingertips.
How good are your sealers?  All our sealers are UV resistant and we have both low odor and low VOC (Volatile Organic Compounds) sealers to meet the toughest requirements in the world. Our easy-to-use sealer chart to help you narrow your sealer choice for interior, exterior, residential, and commercial application and do so in cure time limitations you have for your various projects. Our sealers also meet USDA compliance and NSF cert
How are Granicrete surfaces maintained?  Using pH neutral cleaners enhance the life of sealers significantly. Resealing periods can be 2-5 years or more pending use and cleaning procedures implemented.