Why are awards and recognitions important?
Television appearances and endorsements by our Granicrete customers are important  But having the recognition by our peers affirms the claims we make about our products and systems. 
Better yet, approval by nationally and internationally recognized independent testing agencies furthers the credibility behind the rigorous testing that we do before our products go to market.  These added steps we have taken are to support your success as our customer! 
2007 WORLD OF CONCRETE MOST INNOVATIVE PRODUCT AWARD
Among the more than 90,000 attendees, Granicrete International's countertop resurfacing system was recognized and awarded with the MOST INNOVATIVE PRODUCT. 
The result of this accomplishment and our national and international success has established Granicrete International as a premier manufacturer for decorative finishes.
Granicrete Receives Canadian Food Inspection Agency Approvals
We are pleased to announce that Granicrete International has received use approvals for three of our commercial type floor sealers. This achievement falls in line with Granicrete's efforts to support our independent installers advance into commercial business opportunities.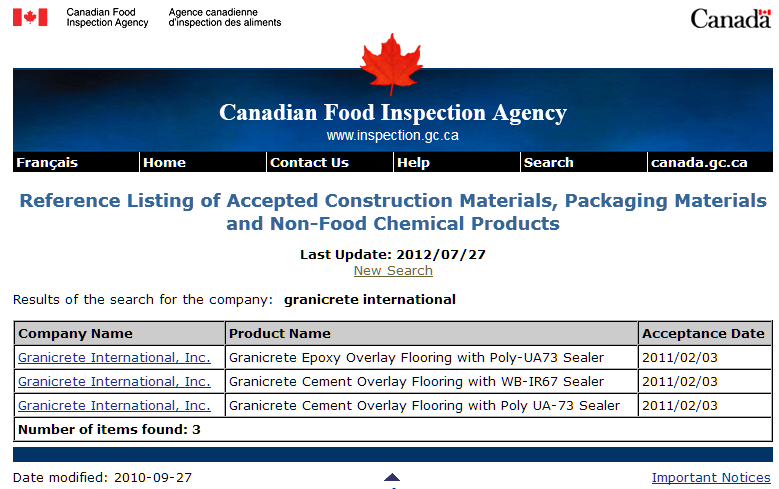 Granicrete Receives National Sanitation Foundation Certification
Granicrete was the first countertop coating system to receive certification from the National Sanitation Foundation (NSF) for our Granicrete Original Countertop Systems. .

Granicrete International was the originating manufacturer to introduce what is now the entire countertop surfacing revolution.  This was confirmed by our receiving the Most Innovative Product award at the 2007 World of Concrete.

Our creation of new markets and opportunities for installers has led to untested, unproven, and disingenuous imitators of our systems. 
These imposters will make claims of their products being better than Granicrete's and they will go as far as to use the pictures of our installations and take credit for themselves. They will carry over such deceptions to other installation systems including floor overlays and epoxy coatings.
Granicrete does take such deception seriously and vigorously works to maintain our brand image and credibility.  This reputation is important for the Granicrete brand and the interests of all installers and distributors in our network.