The response of those who go through our training affirms the value of what this training is doing for them.
     "Wow, I never looked at doing marketing this way before!"
     "Selling Granicrete is easier than I thought."
     "I have been in sales for years, I wish I had known these things long ago."
Learning to do our installation systems is part of the equation.  Your being able to market them and successfully sell them is even more important.  Because we are committed to the success of your business, we have prepared the "Getting Healthy Profits Without the Headaches" marketing and sales training. 
"Getting Healthy Profits Without The Headaches"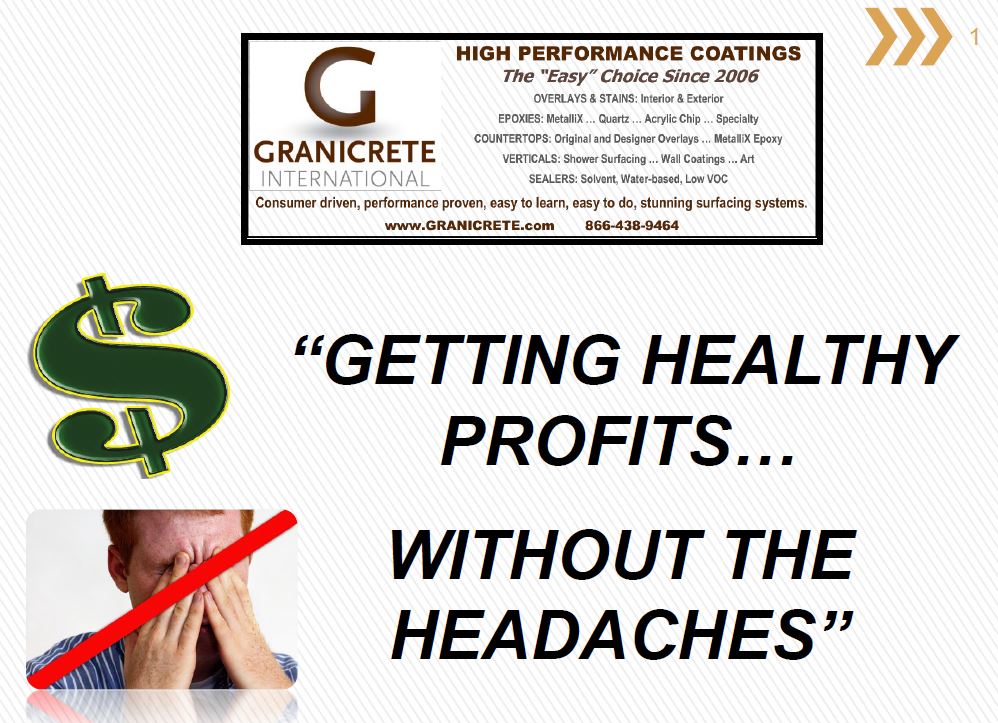 Get on the right track … get on the fast track!
DOWNLOAD THIS FREE MANUAL! 
DOWNLOAD FILEGRANICRETE HEALTHY PROFITS MARKETING SEMINAR UPDATED 03-2021.PDF (1.34 MB) 
It covers the following:
Understanding the mindset of today's consumer.

How to go about marketing and getting the word out quickly and cost effectively.

The best ways and worst ways for marketing per our successful installers.

Words in your vocabulary that must never use as they diminish profits in your business.

How to figure out if your prospective consumer is information gathering or ready to get the install done.

How to present yourself and what to do at the prospect's home or business when they want you to quote them.

How to sell with significantly higher profits for each install… and do so simply.

Understand the resources available to help your business in GranicreteU.com.