GRANICRETE'S EASY-TO-DO, AWARD-WINNING DECORATIVE CONCRETE & EPOXY COATINGS
WHOLESALE PRICES FOR PROS & BEGINNERS: Epoxy and Overlay Coatings for Floors, Countertops, Bartops, Castings,  & Art!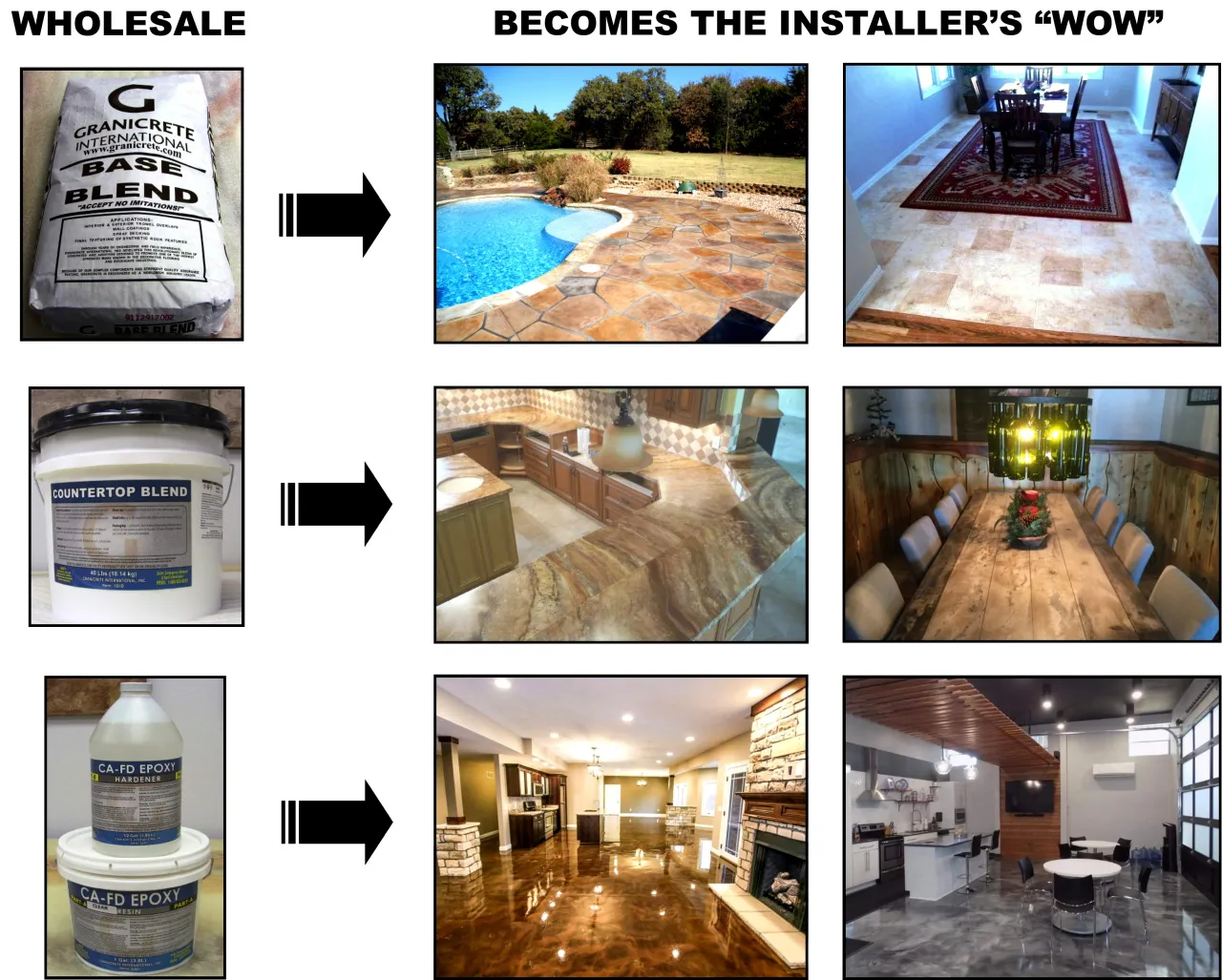 GRANICRETE: OUR PRODUCTS ARE MADE IN THE USA!
Quality time-tested durable products
Our products go through rigorous lab and field testing before we offer them in the marketplace.
Granicrete's products have won awards, meet federal USDA compliance criteria, and California's ultra-low VOC requirements.
Creating successful customers since 2006
All our decorative concrete products must be easy to use for immediate success in the hands of the pro, novice, artist, or DIY. 
More important, when using our directions, guides, and short videos, our easy to follow instructions are your instant path to create "highly authentic" granite, marble, stone and wood finishes.  Our concrete countertops made of our coating overlay are stunning and mind boggling.
You do not need to be an artistic to make Granicrete products look good! Granicrete products make you look good! 
Successful project & business outcomes
Anything less than authentic is faux; faux has little market value. This is why users of Granicrete products achieve financial success.  Our finishes are not faux, are not decorative concrete, but are authentic to the eye!
A proven fact about Granicrete: When prospects see and touch  Granicrete, they want Granicrete.
We will even show you how to build clients for life and enjoy ongoing referrals for  your very own prosperous business. 
EASY TO DO COATINGS FOR FLOORS, COUNTERTOPS, BARTOPS, WALLS, AND MORE
WHAT OUR CUSTOMERS SAY...
Ryan E.
"The training in Tempe was great for learning concepts and principles  in using Granicrete products.  Using these concepts, I was able to practice to build on the skills learned there."
Jackie G.
" I absolutely love Granicrete products. What I appreciate even more is the amazing customer service. It always feels so personal. If I ever have a question, I always feel like assistance is a phone call away. You guys are great!  Thanks a ton."
Brian D.
"Granicrete has unbelievably responsive 24-7 tech support along with high quality and consistent products that we can depend on. They continue to research and develop new products too."
GRANICRETE IS ACCREDITED AND CERTIFIED...
BETTER BUSINES BUREAU A+ ACCREDITED