READ – WATCH
DO – REVIEW…
Your training package includes Granicrete's products and practice boards sent directly to you.
Also in the boxes are our comprehensive training manual and a training guide.
The guide tells you what to read in the manual, and which simple "how-to" video to watch that shows mixing, applying the Granicrete materials, specific coloring, and sealing.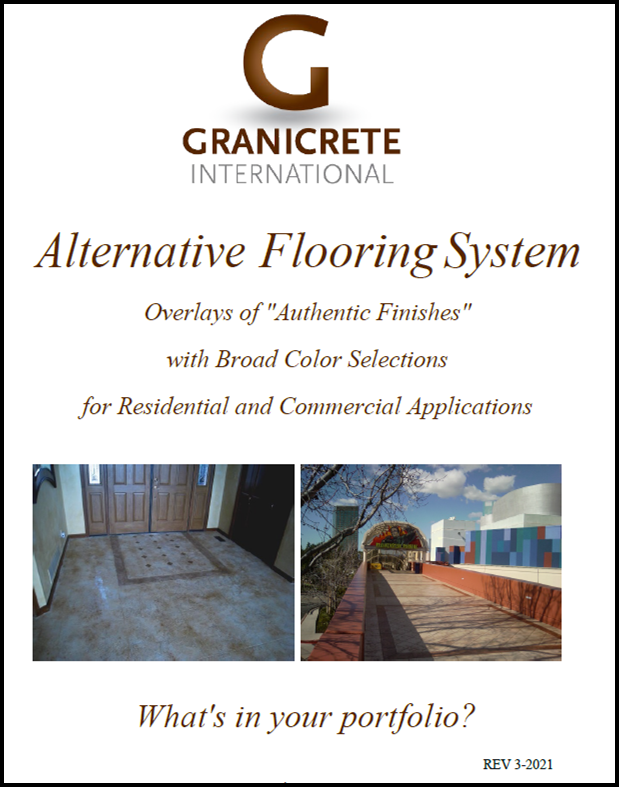 Many Color Recipes

"Best Written Manual"
Includes 20+ How-To Videos

Floor Preparation
Crack Bridging
Base Blend Mixing
Base Blend Application
Honoring Expansion Joints
Taping General Requirements
Taping Random Slate
Taping Flagstone
Taping Travertine and Tile
Texturing for Slate
Texturing for Flagstone
Texturing for Travertine
Pulling Tape for Great Lines
Coloring: General How To
Coloring: Slate
Coloring: Flagstone
Coloring: Travertine
Sealing: Slate
Sealing: Flagstone
Sealing: Travertine
Here are couple of them…
Taping for Flagstone:
Texturing for Flagstone:
Coloring for Flagstone:
 Infomercial Video:
Here is what you will learn:
Considerations for Project and Cost Estimation
Site Preparation
Surface Preparation of Differing Substrates
Easy Moisture Vapor Resolve For Concrete
How to do Crack Repair "Bridging" and Repair Spalled Concrete
Proper Priming of Porous Surfaces
Mixing and Applying Base Blend Coat
Honoring Control Joints While Troweling
How to Tape Your Grout Line Pattern
Mixing and applying "Authentic" Texture Blend Coat
How to trowel for popular stone finishes and wood too
How to color to easily creating stone and wood finishes
Affordably Elegant Surfaces™ of Distinction Coloring Techniques
                Flagstone (Southwest)
                Flagstone (Other Regions)
                Slate
                Travertine (Turkish)
                Travertine (Italian – Mexican)
                Cracked Stone (Basic)
                Cracked Stone (Patina)
                Barnwood Plank
                Concrete Staining and Antiquing
Sealing for customer satisfaction and surface performance
Here is what you will be doing in the training:
How to mix and apply Base Blend
2. How to tape out grout line patterns
3. How to mix and apply Texture Blend for stone finishes
4. Proper method for pulling tape for your grout line patterns
5. Coloring techniques for stone finishes
6. Applying sealer properly
Here is what else you gain:
 
4 Finished "Show-Ready" Boards:
Your training kit includes the necessary Granicrete products to practice with as you make sample boards that stun your friends, family, and future clients. We anticipate you will land many installs from showing these boards to others.

Complete Training Guide and Comprehensive Training Manual:
Our guide takes you through each step of your training. It instructs you what to read in the Manual and the video to watch and follow as you do each step in completing your boards. Our manual is an easy and valuable reference. It has numerous easy to follow color recipes for authentic stone and wood finishes.

Online Knowledge Review and Coach:
As you complete your training we provide you with an online review. It is designed to affirm what you know and prompt us to coach you through what you need assistance. Your coach will also go through pictures you send us of your finished boards to give you comment and guidance. The overall goal is for you to be confident to begin using our products in the field.


Our goal is to equip you with the confidence
to use our products for your business
and to make exceptionally attractive sample boards.
In sharing your boards prospects become customers.
Call to order through corporate office at 866-438-9464.