Don't waste your time guessing. Get on the proven path.
To learn to do our installation systems is great.  To be able to market and sell them effectively and profitably is golden.
How good is this training?
We have had installers that have been in the business for years tell us they wish they had known this all along.
We have had installers who have come from sales backgrounds in other industries tell us that these training materials are some of the finest they have ever gone through.
"Getting Healthy Profits Without The Headaches"
This powerful presentation guide has been designed to assist every installer in their marketing and sales effectiveness.  We take all the guess work out of both through proven techniques from our successful independent installers.   
Get on the right track … get on the fast track!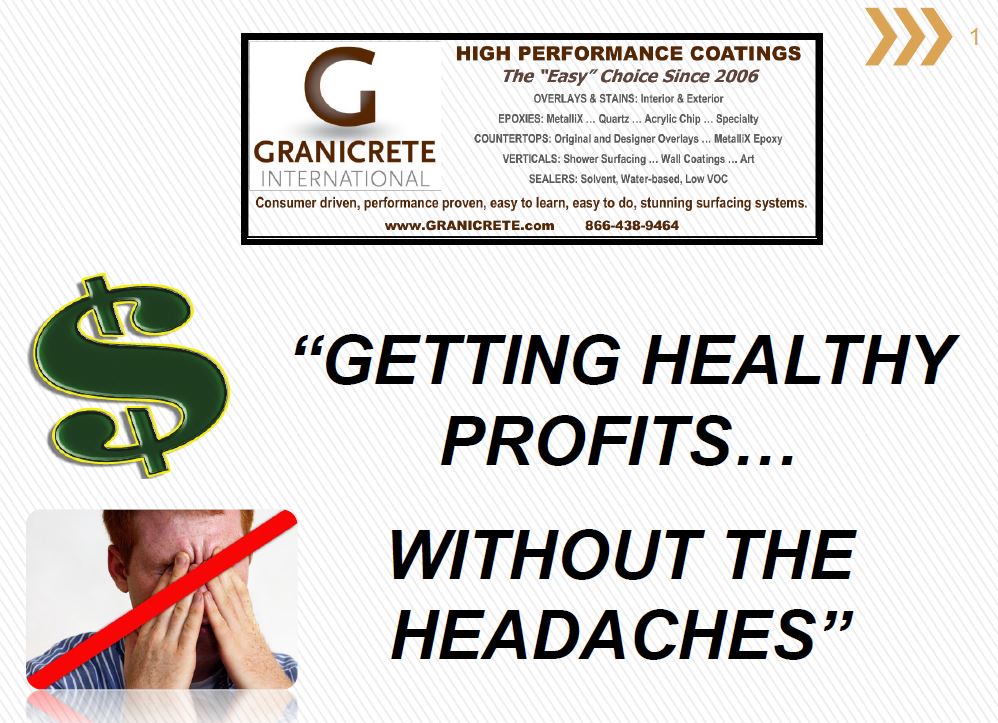 DOWNLOAD FILEGRANICRETE HEALTHY PROFITS MARKETING SEMINAR UPDATED 03-2021.PDF (1.34 MB) 
This FREE DOWNLOAD is 50 pages and covers the following:
Understanding the mindset of today's consumer.

How to go about marketing and getting the word out quickly and cost effectively.

The best ways and worst ways for marketing per our successful installers.

Words in your vocabulary that must never use as they diminish profits in your business.

How to figure out if your prospective consumer is information gathering or ready to get the install done.

How to present yourself and what to do at the prospect's home or business when they want you to quote them.

How to sell with significantly higher profits for each install… and do so simply.
Call to order through corporate office at 866-438-9464.
We carry generic 6 panel trifold brochures that you can order.
You can also get a Granicrete fully branded image by ordering our color door hangers, job-site signs, and business cards.  These along with the 6-panel color brochures can be ordered with your own contact information and logo pre-preprinted on them!  JUST ASK WHEN YOU CALL IN.